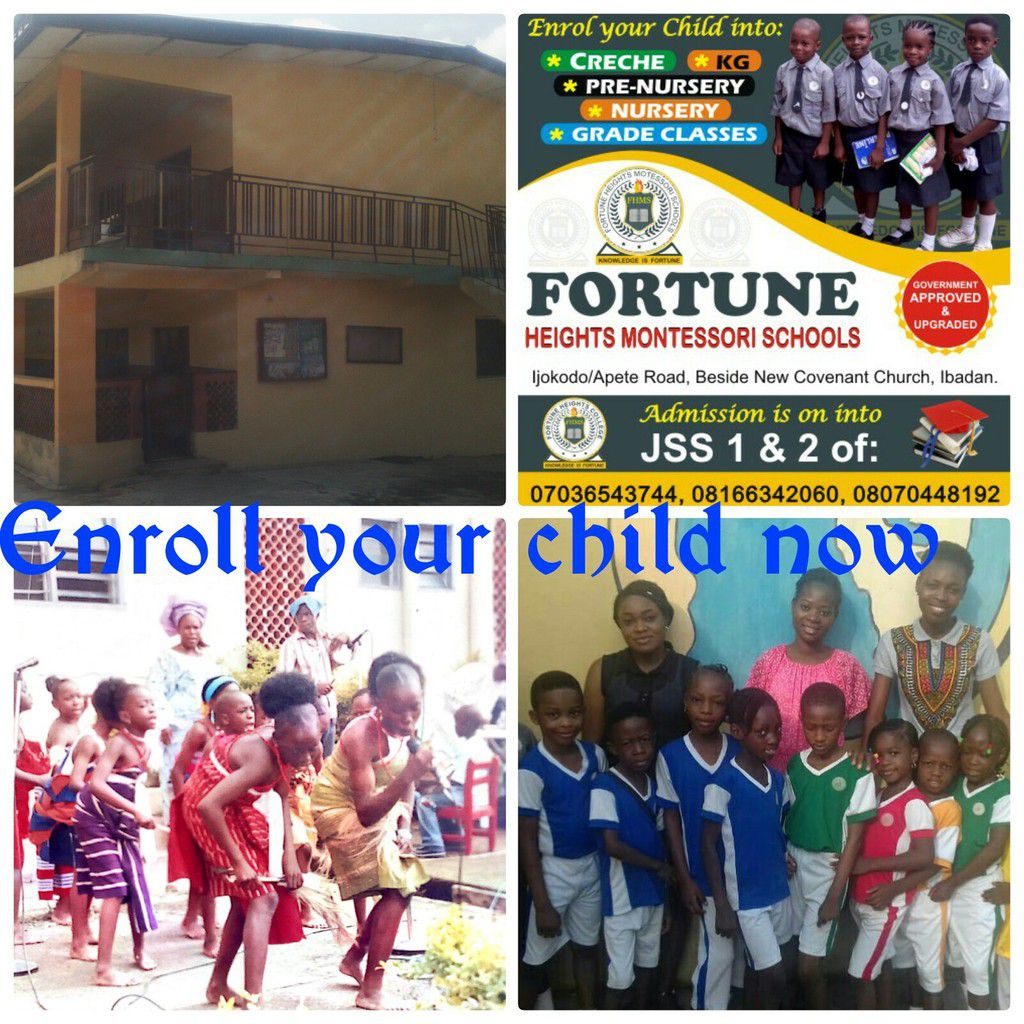 In Fortune Heights Schools, we have: A conducive and well fenced environment for the children.  It has a Well-Furnished Computer Lab.  A well developed Child Day Care for children in Creche classes,  Qualified and highly experienced teachers handling all the needed subjects,  And also has a non disappointing school bus to carry the pupils/ Kids from and back to their houses.  Lastly, the School also gives discount (50%) to Uniform men (Both military and Pala military) as well as 10% discount for the widows and single mothers. So, hurry up and enroll your Child today. Admission is into Nursery/Primary (Creche – Grade 5) and the College (Jss1 and Jss 2) You Don't believe it? Then visit our school environment for facts. Or call these numbers 08142136603, 09079851135 and +234 703 654 3744, or 0818 698 1232.
Our programs are also laudable, they include the following
1. The Cultural day: Any citizen of a country who doesn't understand the culture of his land is a slap on his/her face. On a day like this, we tend to teach our Pupils/students various cultures and norms of the country, making them understand the existence and the essence of their various culture. As such we teach them on this day our various cultural dances, languages and beliefs. It is very educational and this day is been observed annually, precisely by February 14.
2. Excursion: We take our Pupils/students to academically inclined places. One of the places we have visted is the famous Olumo Rock at Abeokuta, Ogun state where we made the children understand the basics and facts about the Olumo rock and we have also taken the children to the motherless homes here in Ibadan, where they get to understand the value of parent-hood and what it means to live without parents. We have even visited the Airport in Oyo state as well as the Oyo State House of Assembly, the "Amusement park" has also been visited by the kids for fun. So, this remarkable places and many more that we will be visiting in Nigeria and beyond have and will further expose the children to the world
3. Career/Profession Day: There are many people today that are biting their fingers due to the wrong choices they made in their educational careers. So, on a day like this, we senzitize our pupils on various occupations, professions and careers that can be of help to them in the nearest future. And when they get to the tertiary level of education this will help them to choose right courses of their choice. So, we introduce this to them at a tender age
4. End of the Year Party/Prize Giving Day: On this day, we all come together to celebrate our students at the end of every twelve month calendar. A right saying goes thus "all works and no play makes Jack a dull boy". So here, we gather to appreciate the efforts of our Pupils/students, parents and teachers, whose efforts in the academic year has brought us thus far.

5. Literary/Debating/Press Club: This forum holds every Friday of the week as our Pupils are taught and evaluated on important issues in the society, like current affairs, virtues and vices, local, national and international news. This platform has really exposed them to their society and the wider world.
6. Star of the week: This is where the performance of our kids in all the classes are duly accessed by the teachers. This include answering and asking brilliant questions during lessons in class, doing and scoring good marks in class-work and assignments as well as being of good behavior. Our qualified and amiable teachers have undertaken to ensure that our kids are duly scored on the star chart and the winners (the one's with the highest stars for that week) celebrated. That will of course serve as a challenge to other pupils to work harder, thereby encouraging the high spirit of learning and concentration among our children.
7. Mr/Mrs Fortune Heights: This program is aimed at exposing our kids to various educative programs that are going on in our society. As such, when they grow, it won't be a new thing to them. This of course would give our kids an edge others who never had this kind of exposure. We must raise their moral to make them have a superior mentality and to start behaving like queen's and Kings.
8. PUG EXECUTIVES: first of its kinds. Many schools overlook this program and that's why we are producing the kinds of leaders we have in our society today. Here in FHMS, we groom them practically on how to become leaders by introducing to them this program known as the "Pupils Union Government". With this, none of our Pupils is ignorant of what it means to exercise one's franchise and also be accountable in leadership.
This few information about our school hopefully should be able to convince you that our school is the best place for your kids