Name: Oluwaseye Precious
Nickname: Princess
Date of Birth: 28th July, 2008.
Hobbies: Singing and Reading
Her Farewell Message
It is just like yesterday, a few years back, when I became a pupil of Fortune Heights Montessori School. If the member of Staff and Administrative of this great school had not believed in me, may be things would have turn out differently. However, they never gave up on me, for that, I am indeed grateful.I must confess, it was not an easy task at all but, I have no regret because such difficulties made me know my weak points, which made it easier for me to work on it.
This school has provided unlimited opportunities for the pupils in order to identify and expose their hidden talents. Been the head girl, apart from being a pupil, it was my motive to help other so that the entire pupil can achieve the best of their abilities in which I tried my best. As I move on to college, I will forever treasure the years I spent in Fortune Heights Montessori School.
I wish to express my gratitude to all the teachers who have imparted positive values to our lives, especially, Our Daddy, Honorable Opeyemi Fatola for his fatherly advice, care and support, also for his listening ears and understanding. I also appreciate Mummy Fatola for bringing out the best in me; I thank Mr. Ephraim and Miss Esther Olajuwon for their wise words.
To the entire staff of Fortune Height Montessori School, I say thank you for your inspiration and mentorship. I am proud to say I am a pupil of this great school.
Future ambition: Medical Doctor
Phone number: 07032439991
Favorite Colour: Pink
Facebook: ---------------
Memorable Day: My Birthday
Role Model: My Mummy
About My School: it is a great school that has solid foundation for wonderful pupils.
Appreciation: I appreciate the proprietor and proprietress, the management
and the entire staffs of this great citadel of learning for their love and care. God bless you all
Word of Advice: I like to tell our juniors to keep promoting the great legacy of Fortune Heights Schools.
Be honest in your day to day activities and take interest in all you are thought.
Parting Word: Be willing to work hard, be loyal and trustworthy; then you can face
the whole world and the next generation with a clear conscience.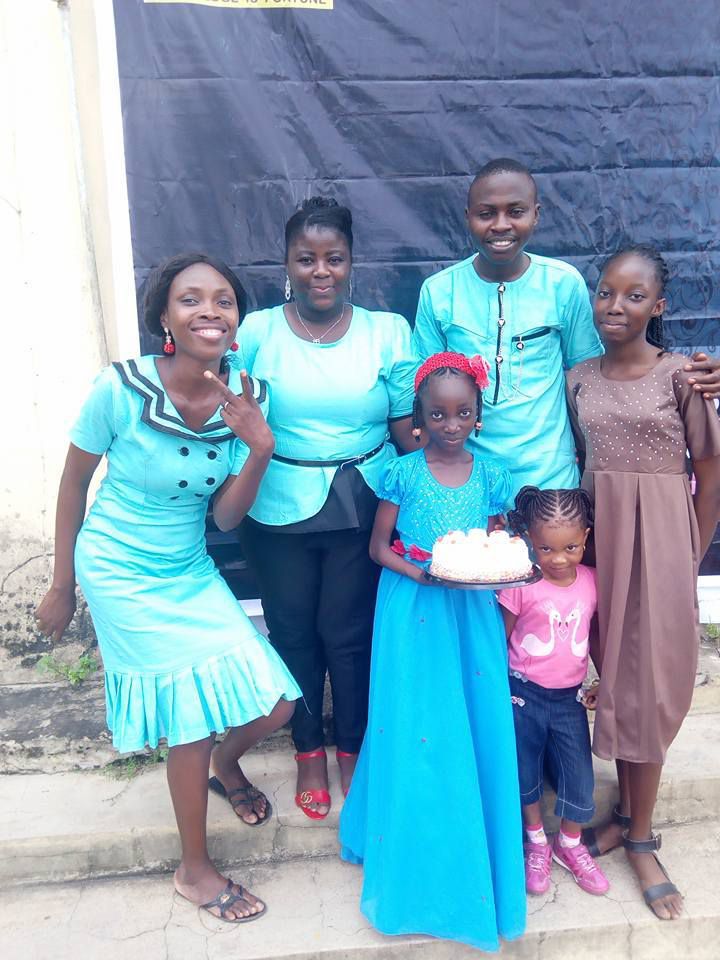 Precious with Rosemary (left) Ayo (middle) Ephraim (right) Her sister (extreme right) and Daniella (besides)
Precoius is the Head girl of Fortune Heights Schools. she became the overall best graduating student in her class. Because of that, she was given a scholarship of the sum of N50,000 from the school proprietor, (Hon. Opeyemi Fatola)
we love you Precious and we wish you the best in your future endeavors